High School
High School: Grades 9-12
From ninth through twelfth grades, students are increasingly challenged; they find the support and inspiration they need in small class instruction, multi-sensory teaching, and project-based learning. Extraordinary aspects of the High School experience include our internship program, extracurricular activities, One Book program, rigorous college preparatory classes, learning opportunities outside of the classroom, and innovative uses of technology. Critical thinking, analytic skills, and executive functioning skills such as organization and time management, help prepare students for "Life After Lab."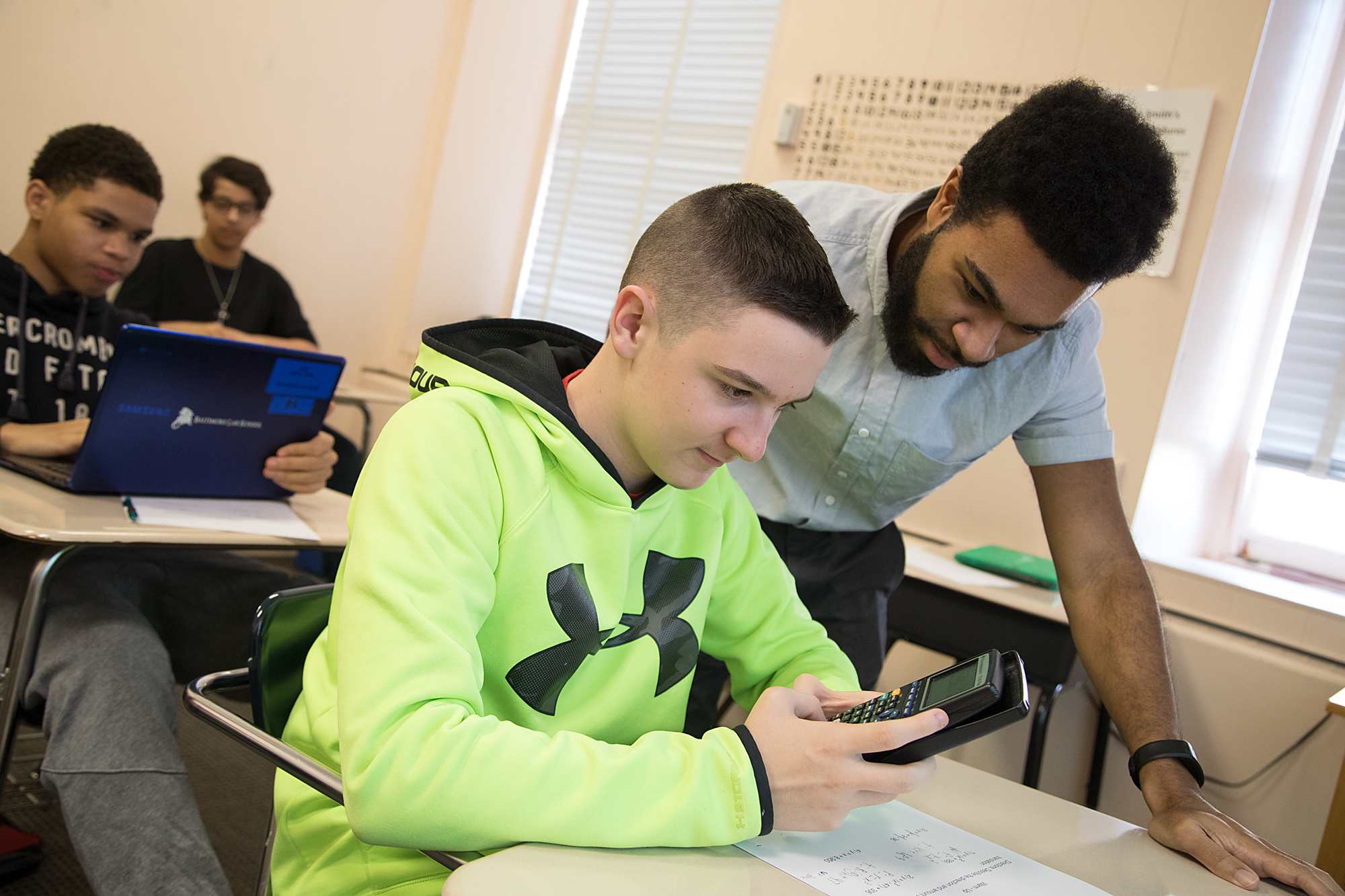 Quick facts:
9th to 12th grade

Low student/teacher ratios

Maintains rigorous, college preparatory course load

Employs the arts as a gateway for learning

Prepares students for college and career through off-campus internships

Provides opportunities to make friends and have fun

Celebrates our graduates: the majority attend college
Baltimore Lab School recognizes that the best classroom on earth is, literally, the Earth. Each year our High School students have the opportunity to participate in overnight trips to places such Boston, Gettysburg, Philadelphia, New York City, Arizona, New Orleans, Nashville, and many more. Our High School students have also enjoyed opportunities to travel abroad to places such as Costa Rica, France, Spain, and England. We're constantly expanding our search for global learning experiences that will enrich the lives of our students and teachers.
Students shoulder more responsibility for their education in the High School. Teachers and staff encourage gradual and appropriate independence. Within this support system, students take ownership of their work, both in class and at home. Self-awareness increases and self-confidence builds as students move through the High School.
A wide array of after school, extracurricular opportunities await our High School students. Team sports, clubs, and the arts provide the chance to build upon an interest...or discover a new one! Baltimore Lab School competes in intermural athletics such as basketball, cross-country, and track and field.
Seniors can take two unique courses: Senior Project and College Prep. Senior Project encourages positive interaction with local arts organizations and community projects through activities such as murals, mixed media portraits, and short films. Past projects have included partnerships with Art On Purpose, Wide Angle Youth Media Group, and Habitat for Humanity. In College Prep, seniors work with our superb College and Career Counselor who assists seniors in taking college entrance exams, college selection and the college application process.
SENIOR INTERNSHIP PROGRAM
Senior- year students work outside the school at a pre-approved job for up to three hours per day. It's an illuminating glimpse at career possibilities and a priceless chance to polish workplace skills, from interviewing to critical thinking skills. Past Internships include stints with the American Civil Liberties Union, Baltimore Montessori School, Baltimore Mounted Police, H.P. Rawlings Conservatory and Botanical Gardens, Johns Hopkins University, the Maryland Institute College of Art (MICA), Mercy Hospital, award-winning theatre companies, restaurants, bakeries, and art studios.